The one place to go for government services. Easy.
Who we are
The Victorian Government created Service Victoria to modernise the way you get things done online.
You've told us it's not always easy or user-friendly and it can be confusing dealing with multiple departments and agencies.
So we're bringing together the most popular transactions in one place and making it simpler, easier and faster for you to do them.
We're also listening to your feedback, making adjustments and adding more services so you have an experience designed around your needs.
Because at Service Victoria, we're at your service.
You can connect with Service Victoria through our social media channels.
100+
Victorian Government transactions
1.15 billion+
Transactions completed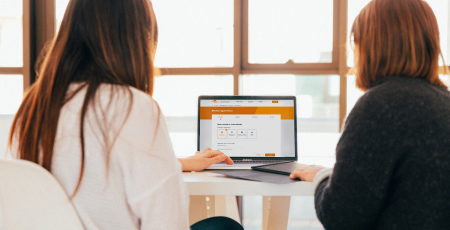 You can access more than 100 government transactions online from the safety and comfort of your own home.
On 1 July 2018, Service Victoria became an administrative office within the Department of Government Services. Led by our Acting CEO, Darren Whitelaw, we're accountable to the Minister for Government Services.
We're a team of customer service, user experience and data experts who are enthusiastic about finding new ways to deliver digital projects that make government services simpler and easier to use.
All our team think 'digital first'. We work in the Victorian Government's first paperless office, using the latest cloud-based technology and agile work practices.
The Service Victoria Act 2018 (Victoria) is the law we must follow while delivering services.
The Act says that, when we help you do your government transactions online, we must comply with these Customer Service Standards. The Standards outline our commitments to you.
The Act also says that, when we need to trust you are who you say you are, we must use the Service Victoria identity verification standards..
The identity verification standards:
set out what documents we can use to prove who you are for different types of transactions
what to do when the names on your documents don't match
what to do if we're not sure you are who you say you are
where you can go if you don't agree with our decisions
Complying with the law is important to us, that's why we follow the:
Service Victoria acknowledges Aboriginal Traditional Owners of Country throughout Victoria and pays respect to their cultures and Elders past, present and future.
Finding people who share our passion for working in partnership across government to find customer-focused solutions is as important to us as technical ability.
Want to work with us? We advertise new full-time and fixed-term positions on Victorian Government Careers.
Help us make Service Victoria relevant to you. Take a look around and give feedback on what you like, what you don't and the services you'd like to see.
And if you've got a complaint, we take it very seriously. You can read about how we'll handle your complaints in our Complaints Handling Policy.
What our customers say
"All good. Even a pensioner like me could do this. Please continue to keep it simple."
Renew vehicle registration
"Simple & user-friendly process. Selecting a start time for a fishing licence is a great and practical option to provide. Well done!"
Buy a fishing licence
"Easy process and great service considering I feel unwell and can have peace of mind."
Sick Pay Guarantee Claim